Want to help reduce air pollution in cities globally?
e-scooter.co is a free and independent international guide for electric scooters that aims to promote clean mobility.
We are looking for a manager for the guide in USA interested in writing sales pitches for new electric scooters.
The sales pitches are read by hundreds of millions of people from more than 200 countries who are very happy with the information.
As compensation we offer $ 250 USD per sales pitch based on a share of the Google Advertising revenue.
Interested? Please send an email to info@e-scooter.co or fill out the form below.
Application Form
Information
Electric scooter guide
The demand for electric scooters is increasing. Governments around the world are banning petrol scooters and in the same time small (electric) mobility solutions are increasingly popular in crowded cities.
e-scooter.co is a free and independent international guide intended to serve both manufacturers and buyers. The guide makes it easy to get a quick overview of all electric scooters available on the international market. The index is sorted based on Google search popularity in each country.
The guide is currently available in 90 countries and 53 languages including the local currency in each country.
Weekly visited from 174 countries
The guide was launched in 2018 and has been visited from 218 countries and is visited on average from 174 countries every week. The guide reaches people from many countries who often send an email just to say thank you.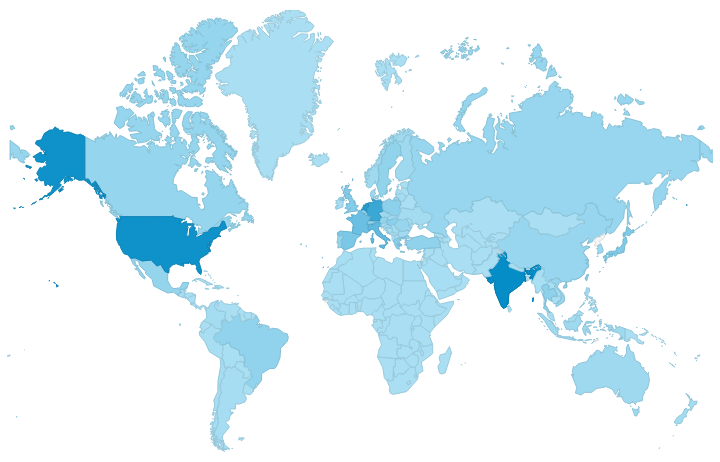 Purpose
e-scooter.co has a simple purpose: to help make electric scooters a success, to function as a driver for international sales and thereby indirectly to spur innovation by startups with a relatively small budget by providing them with free access to every buyer in the world, and ultimately, as a higher purpose, the promotion of clean mobility for healthy air in cities which may have an effect on performance in work, study and life.
Electric scooter market 2019-2040
While a transition to electric may seem obvious, for scooters it may not go as naturally and efficient as many people may expect. There are obstacles for the success of the electric scooter.
Problem: 90% less maintenance costs (less revenue for sellers)
Petrol scooter sellers are dependent on maintenance revenue. Electric scooters can save up to 90% maintenance costs. Even the brakes can be saved via regenerative braking. Without local sellers, buyers have limited access and service.
Problem: low barrier to entry = less opportunity for established motorcycle brands
Petrol scooters enabled big motorcycle manufacturers to leverage a high barrier to entry via a complex petrol engine (high cost innovation) and the requirement for specialized local maintenance (people). The electric scooter does not provide such leverage.
Quality differentiator is shifting to product design / fashion
Production can be outsourced to parties such as Govecs that can produce a scooter as a OEM product, enabling small startups to scale quickly with optimal service and quality. For an example, see the Sway Lithium from California, USA.
Future innovations such as 3D printing may additionally help to overcome the manufacturing-at-scale hurdle and help lay the primary quality differentiator of the electric scooter with product design / fashion / independent innovators.
Component makers such as Bosch (electric motor and battery maker) may turn the market conditions towards them and spur innovation by many companies.
Illustrations by Vect0r0vich